Click on images to enlarge...
This is a Locomotive I just finished building, it's ready for a paint job.
It's over 20 feet long 7' 2" wide with a wheel width of 4' 8-1/2" wide, this is the standard width for all trains in the United States.
The locomotive weights about 4,000 pounds. I've designed this locomotive to be able to drive it in parades. It's powered by two 5 h p gas engines.
I also built a railroad trestle to set and run it on. The trestle is 72 feet long and weights just over 4,000 pounds.
This is a Cinderella Carriage I built in my shop in 2013. It's self propelled by 11 h p Honda engine.
It has a hydrostatic drive system. I had the Amish out in Pennsylvania build the 4 wheels for me.
It will transport 6 people including the driver. It travels approximately 10 mph It will be used for Weddings, Parades and birthday party's.
It's 36 feet long, weighs 1,200 pounds and — yes — it really does shoot.
Good Thunder metal artisan Arnie Lillo says his 36-foot rifle replica is his tour de force.
This is the worlds largest firing rifle I finished building earlier this spring 2010.
1896 Ford Horseless Carriage I'm building for my self from scratch.
This is my freshly painted fork lift I just finished building.
It started out being a 1984 Ford Ranger pickup.
These are cut out of 3/16 hardened metal...below...
Click on images to enlarge...

Heritage Tree
is 35 feet tall on the corner of Minnesota Street in New Ulm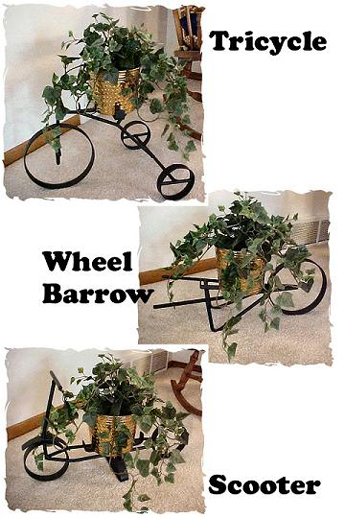 Home | About Arnie | Contact & Map | Park | In the News | Photo Gallery | Lamps | End Of The Trail | Madelia Adventure!